Who gets to be well?
by Wendi Piscia | June 1st, 2018 | 4:33 pm
Hello Friends,
Have you ever had to choose between your pet's health and your own? This torturous decision is a reality for hundreds of Napa County residents who don't have enough money to properly safeguard both. That's why Napa Humane hosts free Wellness Clinics – giving underprivileged families the chance to have their furry loved ones examined, vaccinated, and treated for basic health needs.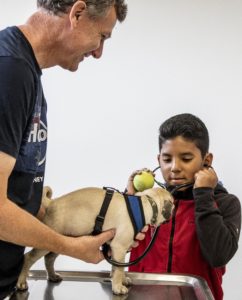 Every year, our volunteer vets examine and treat hundreds of cherished dogs, cats, and rabbits from Napa County. More than half of these animals have never seen a vet before. Many of them are suffering from ear infections, worms, skin irritations, and other painful conditions. Last year, almost ¾ of all the animals we saw had to be dewormed!
Our clinics provide much-needed relief to both the pets and their owners, improving health with flea treatments, vaccinations, and the basic antibiotics and ointments necessary to treat the most common pet afflictions. It's wonderful to see the joy and relief on everyone's faces at the end of the day. (Click here for photos from last month's clinic that will melt your heart….)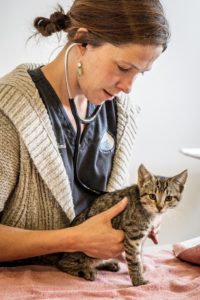 Our Clinics also, of course, educate pet owners about proper care and the importance of spay/neuter to avoid unwanted litters and needless suffering. We are proud to report that our 2017 clinics resulted in spay/neuter surgeries for 64% of all the unaltered pets we saw. And at our most recent Wellness Clinic in May 2018, we scheduled all but three of the unaltered pets for spay/neuter surgery!
So far this year, we've helped 176 animals get the preventative health care they need, with two more clinics planned for the second half of 2018. And, thanks to an anonymous donor, we also have a $5,000 matching challenge to help cover the costs of the more significant veterinary procedures needed by these under-served pets – more on this exciting opportunity here.
We could not offer these life-changing services without your financial support, and the small army of volunteers who donate their time to make these events happen. On behalf of all the hundreds of pets and pet owners whose lives have been improved by these clinics, THANK YOU. Your support makes this happen.
Sincerely,
-Wendi Piscia