Dr. Caitlin Underhill – Longtime Napa Humane Volunteer
by Wendi Piscia | June 1st, 2018 | 4:00 pm
I was four years old when I told my family I was going to be a vet. They knew in their hearts that this would indeed be my career… I was crazy about every animal! My passion led me to volunteer at the Napa County Animal Shelter as a middle school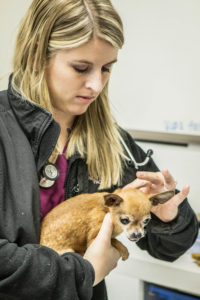 student, walking dogs to help them socialize and get exercise. Those pups craved a forever home so fiercely. It was then that I first began to understand the need to raise money and increase awareness for adoption.
In high school I got involved on the fundraising side, participating in Napa Humane's Cause for the Paws event every summer I was able. Inspired by Napa Humane's important work, I signed up for a Vida Volunteer trip as a college freshman to provide free spays and neuters, vaccines, and preventative care for companion animals in Costa Rica and Nicaragua. Before the trip, I came home to Na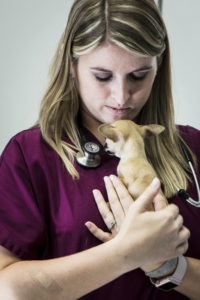 pa Humane to get the necessary experience, and they graciously helped me earn the hours needed for my trip.
I was inching closer to achieving my dream. After I completed my Bachelor's degree from Cal Poly, San Luis Obispo, I entered Mississippi State College of Veterinary Medicine. Graduating last May, I returned to Napa to start my veterinary career at Silverado Veterinary Hospital. With my goal finally realized, I jumped at the opportunity to participate in Napa Humane's Wellness Clinics as a volunteer vet.
I enjoy giving back, especially now as a doctor. It is rewarding to help the pets, and also to work with the people who have so positively impacted my life and career.
–  Caitlin Underhill, DVM