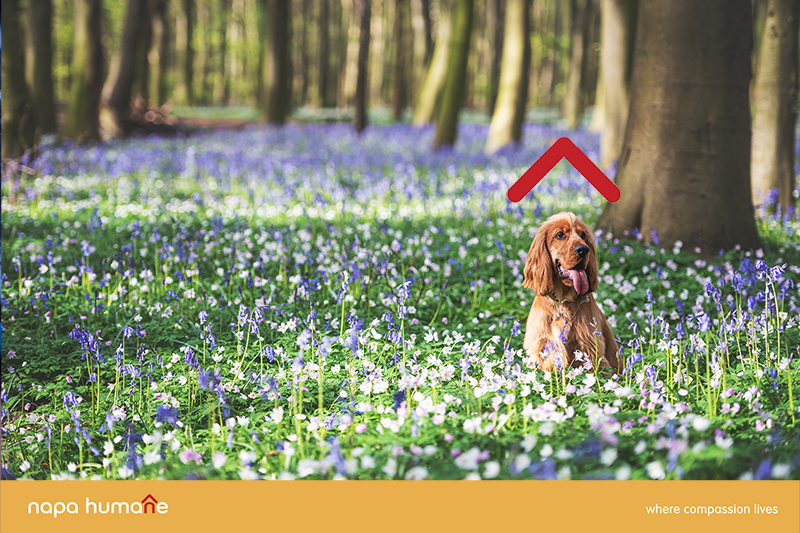 A Guide to Springtime Pet Safety: 10 Must-Know Tips
by Wendi Piscia | March 28th, 2023 | 8:07 pm
Spring has finally sprung, and we're all basking in the warm sunshine and vibrant flowers that are bursting with color all around the valley! Most of us know the basics on how to keep our furry friends calm, cool, and collected during the hotter months, but we've compiled a list of 10 tips to makeKeep Reading
Meet Napa Humane's New Pet Education Manager
by Wendi Piscia | February 27th, 2023 | 10:40 am
Meet Napa Humane's New Pet Education Manager As we mentioned a while back, Napa Humane is launching a new dog training program to help address one of the leading causes of canine surrenders at the shelter: behavioral issues. Proper training makes it easier (and therefore much more likely) for dogs to get the exercise andKeep Reading
Remembering Clay Gregory, a Napa Valley Champion
by Wendi Piscia | February 21st, 2023 | 1:46 pm
Napa Valley lost one of its most influential animal lovers with the passage of Clay Gregory. Clay was a much-beloved champion of our community as CEO of Visit Napa Valley, President of the Napa Valley Vintners and Jackson Family Wines, and VP/General Manager of Robert Mondavi Winery (among many other important roles), but he wasKeep Reading
Five Ways to Incorporate Pets Into Your Valentine's Day Festivities
by Wendi Piscia | February 13th, 2023 | 1:41 pm
Valentine's Day is all about spreading the love, and there is no one more deserving than your four-legged family members. We wouldn't recommend a box of chocolates, but here's how we plan on spoiling our pets tomorrow. 1. Pack a lunch and soak up the sun with a smile-filled picnic. If the winter chill isKeep Reading
Alternatives to Dog Parks
by Wendi Piscia | February 1st, 2023 | 1:40 pm
Did you know there are three dog parks in Napa? While this might seem a great resource to exercise your dog, these meet-ups aren't for every pup. Dog parks can be crowded, unpredictable, and downright overwhelming for even a socialized dog. Various dogs, and breeds, have different play behaviors. While some may enjoy a gameKeep Reading
Putting Paws to the Pavement
by Wendi Piscia | January 25th, 2023 | 1:34 pm
It's National Walk Your Dog Month! Dogs are active, curious animals, so a walk is just about the best thing in the world for a dog. Not to ignore all the obvious physiological health reasons walking is good for both you and your furry friend, several unexpected benefits come with a daily walk. It KeepsKeep Reading
Does Rain Affect Your Pets?
by Wendi Piscia | January 11th, 2023 | 1:28 pm
The short answer is yes! Everything from the sound of the rain to the moisture it produces can stress your pet. It's important to know the physiological as well as psychological differences between you and your pet so that you both can have a safe and happy Northern California rain-filled winter. Dogs can hear fourKeep Reading
Feeling Grateful!
by Wendi Piscia | November 2nd, 2022 | 8:41 am
This month marks a jaw-dropping seventeen years since I first joined the Napa Humane team – and I couldn't feel more blessed. In the last seven years since I stepped into the Executive Director role, we've weathered two giant wildfires, multiple PSPS events, a global pandemic and now an acute veterinary shortage.  Needless to say,Keep Reading
Halloween Hazards
by Wendi Piscia | October 11th, 2022 | 3:52 pm
They Came, They Wagged, They Walked for Animals 2022!
by Natalie Griffin | September 30th, 2022 | 10:40 am
After two years of pandemic virtual events, Walk for Animals returned in person for 2022. We weren't sure what to expect, given the circumstances – besides some lingering covid-anxiety, we also had to contend with some new challenges this year. The Oxbow River Stage had taken over the east side of Oxbow Commons, with eventKeep Reading
Welcome to Our Blog
Napa Humane's mission is to promote the welfare of companion animals through protection, advocacy, education, and by example.
Stay Up to Date
Join our mailing list and get the latest news and special offers from Napa Humane.