Press Release – FREE Spay/Neuter for Cats
by Wendi Piscia | February 2nd, 2018 | 2:54 pm
Napa Humane Partners with Jameson Animal Rescue Ranch
To Provide Free Spay/Neuter Surgery for Cats
Non-profits pool resources to address "kitten season" and overcrowded shelters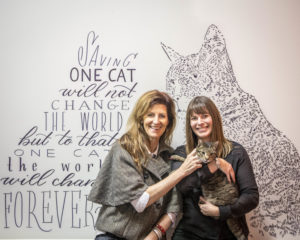 NAPA, CALIFORNIA. January 26, 2018. Napa Humane has joined forces with Jameson Animal Rescue Ranch (JARR) to provide FREE spay/neuter surgeries for approximately 200 cats this February, to reduce the number of unwanted litters born this spring. JARR pledged $10,000 to help low-income families by underwriting cat sterilization surgeries at Napa Humane's low-cost Spay/Neuter Clinic.
Just one un-altered female cat and her mate can produce 11,801 kittens within five years, due to frequent breeding cycles that can start as early as five months of age. During "kitten season," animal shelters and rescue groups are inundated with far more animals than there are potential new homes. Spaying or neutering is the best way to reduce the number of unwanted and stray animals, and the right thing to do for the cats. In addition to the behavioral benefits of spaying/neutering—reducing or eliminating spraying, incessant howling, aggression, fighting, and other undesirable (and often stressful) behaviors—the procedure can also help cats live a longer, healthier life by virtually eliminating the risk of reproductive organ cancers and disorders.
"We're thrilled and grateful to be partnering with JARR on this initiative," says Wendi Piscia, Executive Director of Napa Humane. "By spaying and neutering just 200 cats, we are preventing thousands of unwanted litters from being born to an uncertain future."
"We are committed to saving animals' lives through spay/neuter," says Monica Stevens, co-founder of JARR. "Our partnership with Napa Humane is an important part of our mission to help significantly reduce the overpopulation of pets."
The full cost to perform feline spay/neuter surgery (including all care and basic vaccinations) is slightly over $100 per cat. Donations Napa Humane receives from private individuals and organizations typically cover 60% of those expenses, enabling the Clinic to offer the service to the Napa County Animal Shelter, area animal rescue groups, and the public at reduced rates. With JARR's generous contribution, the Clinic will be able to offer completely free spay/neuter surgeries for approximately 200 cats.
People with cats who wish to take advantage of the free surgeries must call Napa Humane's Clinic to schedule an appointment during the month of February, and mention Jameson Animal Rescue Ranch. The number is (707) 252-7442.
For information about Napa Humane, please visit www.napahumane.org.
For information about Jameson Animal Rescue Ranch, please visit www.jamesonanimalrescueranch.org.
ABOUT NAPA HUMANE: For more than 40 years, Napa Humane has worked to promote a community free of pet suffering, population, and homelessness. The organization operates a low-cost, high-volume spay/neuter clinic in the City of Napa, which has neutered more than 20,000 dogs, cats and rabbits in the last five years alone—preventing millions of unwanted animals from being born.
ABOUT JAMESON ANIMAL RESCUE RANCH: Jameson Animal Rescue Ranch is a no-kill rescue and sanctuary in the Napa Valley for companion and farmed animals in need. The nonprofit provides transitional and permanent shelter, adoption and rescue services, humane education, animal advocacy, and is committed to ending animal hunger, cruelty, and overpopulation.