Meet Napa Humane's New Pet Education Manager
by Wendi Piscia | February 27th, 2023 | 10:40 am
Meet Napa Humane's New Pet Education Manager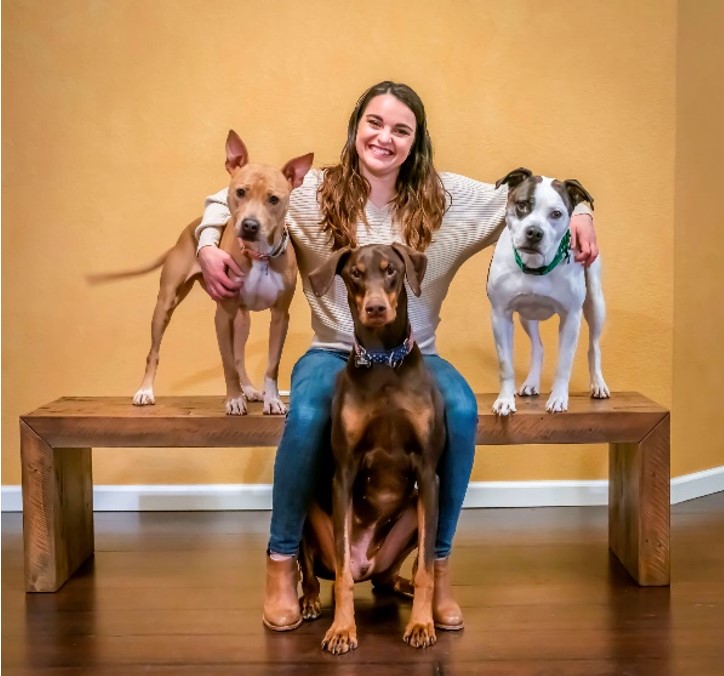 As we mentioned a while back, Napa Humane is launching a new dog training program to help address one of the leading causes of canine surrenders at the shelter: behavioral issues. Proper training makes it easier (and therefore much more likely) for dogs to get the exercise and stimulation they need to be good companions, and it also helps strengthen the human-canine bond – both of which help keep dogs in their homes, and out of the shelter.
We are excited to be expanding our preventative programs to include this critical area of pet well-being, and even more delighted to introduce you to Napa Humane's first Pet Education Manager! Read on for a Q&A with Alyssa Vincent, CPDT-KA.
Q: Tell us about your experience in Pet Education.
A: I have been working with dogs since 2009 and have been training since 2012. I have helped coordinate summer camps, and also had the opportunity to visit classrooms in schools and to work with visiting Girl and Boy Scout groups. Many children do not have pets at home, and I find these kids are often the most excited to learn about safe interactions. I find it incredibly rewarding to watch their faces light up while they learn about how to safely have fun with animals and how animals experience life. In addition, I have also spent the last 7 years educating adult volunteers on safe and healthy interactions with shelter dogs.
Q: What is the significance of the CPDT-KA certification?
A: Pet Care and Dog Training currently have no industry-wide regulatory standards. Unfortunately, this means that people of a very wide skill set and knowledge base are training and caring for pets. A consumer winds up relying on someone's ability to sell their knowledge, or the rate of their services, to decide on a trainer. While I know many skilled trainers without a certification, I decided that for my own comfort, I wanted to achieve certification from the Certification Council for Professional Dog Trainers(CCPDT). Their CPDT-KA certification stands for Certified Pet Dog Trainer- Knowledge Assessed, which means you have passed a standardized exam – which I like to equate to a Dog Trainer SAT. I collected over 300 hours of experience through various mentorships, internships, and seminars, while gaining experience in the classroom and the shelter before taking the exam. I chose to sit for the exam due to the ethical standards it represents, such as following the philosophy of Least Intrusive, Minimally Aversive. The goal is to prioritize the safety and comfort of both the human and the dog throughout the education process.
Q: What made you apply for the position of Pet Education Manager with Napa Humane?
A: I left the shelter world in 2021 and while training privately has been hugely rewarding, I really missed working with the community. Napa Humane's approach to meeting their community's needs and to help keep animals out of the shelter is extremely exciting to me. I have seen how the community is often left behind when most shelter resources go to housing and rehoming animals. I believe that educating the next generation is not just about keeping children safe from dangerous interactions, but also shapes the future of animal sheltering and responsible pet ownership.
Q: What do you enjoy most about working with people and their dogs?
A: I love helping people understand their dogs. From teaching them how to read the dog's body language, to better understanding how their dog learns, to understanding the "why" behind their behaviors. Pet owners, no matter how frustrated or exhausted, love their animals and want to have a better relationship with them. I love helping to strengthen the bond on both ends of the leash. When we know better – we do better, so my goal is to teach and share my knowledge and the most up-to-date information to help spread the ripples of knowledge everywhere!
We are so happy to have Alyssa on the team and cannot wait to share our new Pet Education resources with our community!