June Wellness Clinic Takes the Sting Out of Summer
by Lisa Alexander | June 26th, 2019 | 11:41 am

Summer isn't all fun and games for pets without access to regular veterinary care. Hot spots, foxtails, and ear infections make for a mighty uncomfortable season, and can become serious health risks if left untreated. At our June 23 Wellness Clinic, we helped 105 four-legged patients get back on the road to health and signed up 40 animals for spay/neuter surgery – thanks to the volunteer vets, vet techs, and supporters who generously gave their time and resources to tend Napa's neediest pets!
When people are lining up at 5:30 a.m. on a Sunday morning, you know you're doing something right. Our five volunteer vets gave every animal an overall physical exam, checking eyes, ears, teeth, skin, as well as their vital signs. They were able to dispense most prescriptions needed on the spot, and send the owners home with advice on how to heal the problem and avoid it in the future. No wonder several loving owners were waiting in the Napa Humane Clinic parking lot before 6am to make absolutely sure their pets would be seen!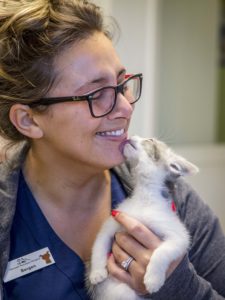 We provided 126 vaccines, and countless microchips, nail trims, flea medications and medical counseling advice. As usual, we connected attendees with food, toys, leashes, collars, pet ID tags, pick up bags, and other pet care essentials. As you'd expect in the summer, we saw a lot of hot spots (also known as "summer sores" or moist dermatitis), and handed out a lot of Gen One spray – a combination antibiotic with an anti-inflammatory for lesions, hot spots and scabs – and Universal Medicated Shampoo, which is an antibacterial, antifungal, and deodorizing shampoo that treats the most common dermatological conditions in dogs and cats.
Our bilingual volunteers and vet techs also did a lot of burr- and foxtail-related grooming, and gave owners grooming tips to help them avoid these problems in the future. We took care of feline ear mites, cleansed many infected ears of all kinds, and sent patients home with prescriptions so that the owners could complete the two-week course of treatment and finally eliminate the problem – which, in most cases, had been present for quite a while.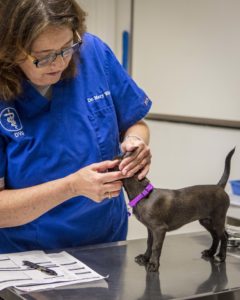 Of the 105 animals we welcomed, 62 had never been examined by a full-service vet before, and 96 needed their records written up in Spanish. Our free, bilingual Wellness Clinic was the only way their owners could access professional veterinary care for their beloved companions. 
The dedication, love and tenderness at our June clinic confirmed once again the importance of this work. If you'd like to help underwrite this essential community program, please reach out! There is far more need than resources available for Napa's low-income pets. 
Contact our Executive Director Wendi Piscia (wpiscia@napahumane.org) to discuss how you might be able to help provide for our community's neediest companion animals.
Photography by: Seymour & McIntosh