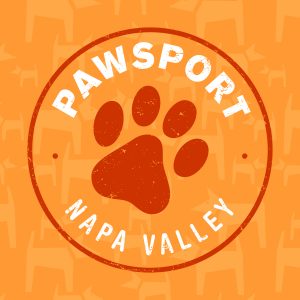 Pawsport Napa Valley
May 18 – 21, 2017
Join us for Napa Humane's dog-friendly wine tasting weekend. Good all four days from May 18-21, 2017.
Visit 15 fabulous Napa Valley wineries and tasting rooms welcoming all pet lovers who love wine and wine lovers who love pets.
Come with or without your pooch for exclusive tastings, souvenirs, dog treats, discounts on bottle purchases, and much, much more!
Pawsport Napa Valley benefits Napa Humane!
Each $75 Pawsport offers you over $500 in wine tasting experiences.
Thank you to our sponsors
Our Pawsport Napa Valley 2017
Wineries and Tasting Rooms
Click here for the Pawsport Map!
Our Pawsport Napa Valley 2017
Hotel and Restaurant partners
Napa General Store
540 Main Street, Napa
(707) 259-0762
Cafe open 8 am – 3 pm
Retail shop open 8 am – 6 pm
Pawsport holders enjoying breakfast, brunch or lunch at the Napa General Store will receive a 10% discount off their meal at the cafe.
Pawsport guests staying at the historic Napa River Inn will receive the special Pawsport Napa Valley room rate when booking here.
Andaz Napa
1450 First Street, Napa
to book your Pawsport stay please call Lisa Werner, Colleague Experience Manager
(707) 603-1107
Pawsport guests staying at the upscale Andaz Napa, a vibrant downtown boutique hotel, will receive a special Pawsport gift bag that will be "doggy" customized if you're traveling with your furry friend.
Andaz Napa will graciously waive their pet fee for all Pawsport guests.
Have a question? Please check our FAQs or contact Adrienne Amdahl at aamdahl@napahumane.org or (707) 255.8118 x205
Stay Up to Date
Join our mailing list and get the latest news and special offers from Napa Humane.