The Purrfect Pick-me-up
by Wendi Piscia | January 8th, 2018 | 5:32 am
Dear Friends,
We hope the New Year is off to a great start for each and every one of you! Today, January 8, marks the three-month anniversary of the Atlas Fire, and we wanted to share another incredible story of survival and heroism in the face of the flames. If you could use a mood boost from the January grey, or just want another reason to smile, read on. This story's just purr-fect.
Jennifer S. lives between Wooden Valley and Gordon Valley in eastern Napa, near the Solano County border. When the Atlas fire mandated evacuation of her property, she and her family made the difficult decision to stay and defend their home. They also fed the firefighters deployed in the area, helped snuff out hot spots, and even went on rounds with the fire crews.
Then one night around 12:30 a.m., Jennifer and a firefighter went out into the pitch black to check on a hot spot near Lizard Flat on Wooden Valley Road. While they were assessing the situation, something shot out of the shadows in the center of the flames and leapt into Jennifer's arms, purring. Moments later, nine other young cats sprang from the darkness and ran up to her for help.

They seemed to be from different litters, of different ages and sizes, but clearly they were on the same page: they were so happy to be rescued! Jennifer loaded all 10 kittens into her car and drove home with surround-sound purring filling the smoky air.
The first 24 hours at Jennifer's house, all the kitties did was eat, drink, and purr (make sure your volume is turned up).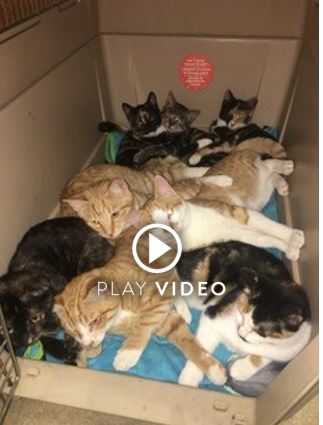 She named the first brave little cat who came up to her "Atlas," because he was the one who started it all. Once the fire danger had passed and she was able to resume normal life activities, Jennifer took Atlas and the gang to the vet and reached out to Napa Humane for spay/neuter surgery, vaccinations, and microchipping. Thanks to our fire-specific donations, we were able to provide all our necessary services and surgeries for free, and compensate her for the cost of the veterinarian care!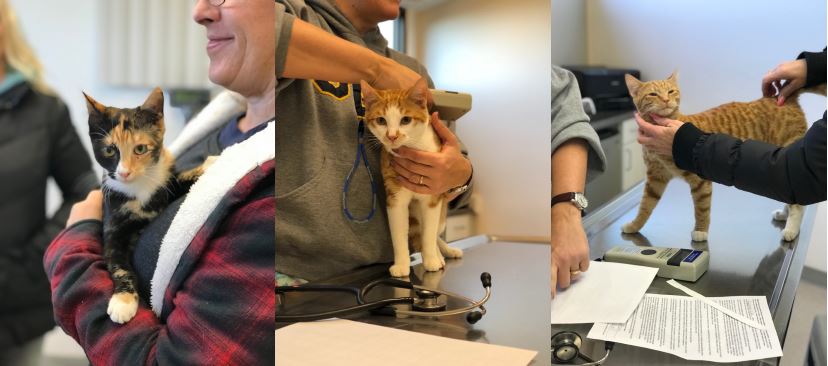 Many of these sweet, resilient young cats have found new homes thanks to Jennifer's efforts, but two (photographed below) are still looking for their forever families.

Do you have room for a purring little face in your life? Contact Jennifer at jennifer@gordonvalley.com for more information.