Stepping Up for Evacuated Pets
by Wendi Piscia | November 26th, 2019 | 1:01 pm

When a community is in crisis, its pets are, too. Luckily, Napa County (who's in charge of our local disaster response) has set up an organized chain of command to prevent needless animal suffering, and to manage public and private resources for maximum impact. It really takes a village to keep a community safe during large-scale disasters! And the Kincade Fire evacuations showed once again how essential nonprofits like Napa Humane are to humane emergency response.
The first line of defense for local animals affected by disaster is the Napa County Animal Shelter. When their resources can't handle the full scope of the need, the County calls for backup to the Napa Community Animal Response Team ("Napa CART"), a volunteer-led, nonprofit organization that mobilizes private resources to assist Emergency Services in sheltering, evacuation, and care of animals during a disaster. This call is what's known as "activation" in disaster relief lingo. Napa CART's volunteer core has gone through specific training to respond during times of emergency, and they're ready to spring into action when needed. For a community's disaster response to run as smoothly and effectively as possible, this chain of command must be followed – organizations must wait to be activated, and should never self deploy.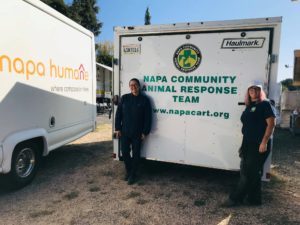 Napa Humane is proud to be a member of Napa CART, and to have played an essential role in the Kincade Fire evacuations. On Sunday, October 27th, Napa CART got the call: activation time! With the fire blazing out of control near the Sonoma-Napa County line, thousands of people had been ordered to evacuate, and Calistoga was under advisory evacuation. Napa CART was told they needed to be ready for large animal evacuations (which the Napa County Animal Shelter does not handle), and that they were in charge of small animal sheltering at the Crosswalk Community Church shelter location.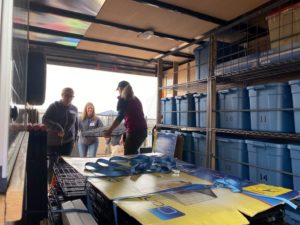 Napa Humane took the lead at Crosswalk to help the evacuees. Our staff and team set up and managed the temporary shelter there, working 12-hour shifts to make sure appropriately trained people were there to care for the stressed-out pets. We brought our mobile unit to house evacuated cats, because while no emergency shelter is ideal, this thing is as good as it gets. Picture an RV with animal kennels inside – secluded, secure, and temperature controlled. We opened on Sunday, and closed on Thursday when the evacuation orders were lifted.
The relief that the evacuees experienced knowing that their pets were safe with us was incredible to see. One sweet woman we met had also been evacuated during the 2017 fires, and she told us that her previous evacuation shelter experience had been difficult – her elderly kitty had not done well surrounded by all the other animals – but our mobile unit's quiet, low stress environment was a much better fit. The owner was so grateful, she brought us a (delicious) pie from Sweetie Pies as a thank you! I was floored. There she is, sleeping on a cot surrounded by hundreds of other displaced people, and she goes out of her way to make sure that WE feel appreciated.
We were honored to put her and other evacuated pet owners' minds at ease, and we are grateful to the private donations that enabled us to do it. While the County's emergency response efforts are largely reimbursed by government funds, ours are not. Everything Napa Humane does for Napa CART, from our shelter staffing to the mobile unit, is funded entirely by donations from our supporters. Thank you all for your support!
Will you help ensure we can be there for the animals in the next disaster?