Off To a Great Start!
by Wendi Piscia | May 2nd, 2022 | 11:48 am

Napa Humane exists so that the puppies and kittens born in Napa County are wanted and cared for, not entering shelters or rescue groups every day.
So that preventable diseases don't steal the lives of young animals, or threaten our human neighbors.
So that pets lost in disasters (or just because a gate got left open) can easily locate their owners.
And so that our children know how to safely and respectfully interact with animals, and furry family members don't get kicked out as "biters."
Napa Humane exists to ensure that this IS the reality in our community.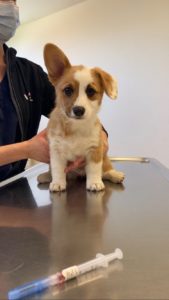 We are the ONLY organization in Napa County doing this work, and we receive no government funding at all.  But thanks to YOUR support, we've already done some great work this year to help keep Napa humane!
In just the first three months of 2022, Napa Humane performed spay/neuter surgeries for 1094 dogs, cats and rabbits.  About half of these pets were female. This means (assuming only half the females give birth to an average litter of four), our work helped ensure that another 1092 puppies, kittens and rabbits were not entering our shelters or running the streets.  
As more of our neighbors find themselves unable to pay the $600+ necessary to spay their pet at a full-service veterinary hospital, Napa Humane's high-quality, low-cost clinic is becoming an even more vital community resource.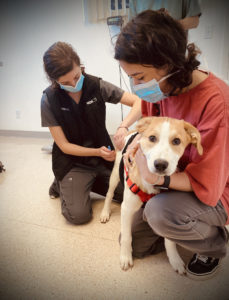 When we found out that our schedule was booked several months out this year, we responded by hiring an additional surgery team to come in on two weekend days to spay/neuter community cats.  These weekend warriors performed 35 additional surgeries just before kitten season.  Because these are unowned, outside cats, every one of the 21 females we spayed would have probably had one to two litters of kittens in 2022 – meaning that without our surgical team, as many as 168 unwanted kittens would have been born in fields, under decks, or in Napa County dumpsters. 
Many of our surgery patients also receive low-cost vaccinations and microchipping, but in addition to those, we manage to vaccinate 544 other pets against preventable diseases, and microchipped 448 animals during scheduled wellness appointments.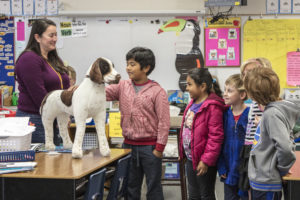 As schools' covid-19 protocols opened up to allow guest presenters again this spring, we jumped right back into our popular humane education programs for Napa County youth. We also held a virtual Pet First Aid class in partnership with the Town of Yountville, REAP, and Napa Valley Veterinary Concierge.  This initial class was offered to senior citizens as a priority, but stay tuned for a future Pet First Aid class that will be open to the whole community.
Napa Humane is so grateful to our volunteers, corporate sponsors, individual donors, the Gotelli Family Fund Grant received through the Napa Valley Community Foundation, and the Petco Love Vaccination Grant. Without all of this support, we could not have served our community – or our pets – as effectively this year. Thank you!! You help keep Napa humane.