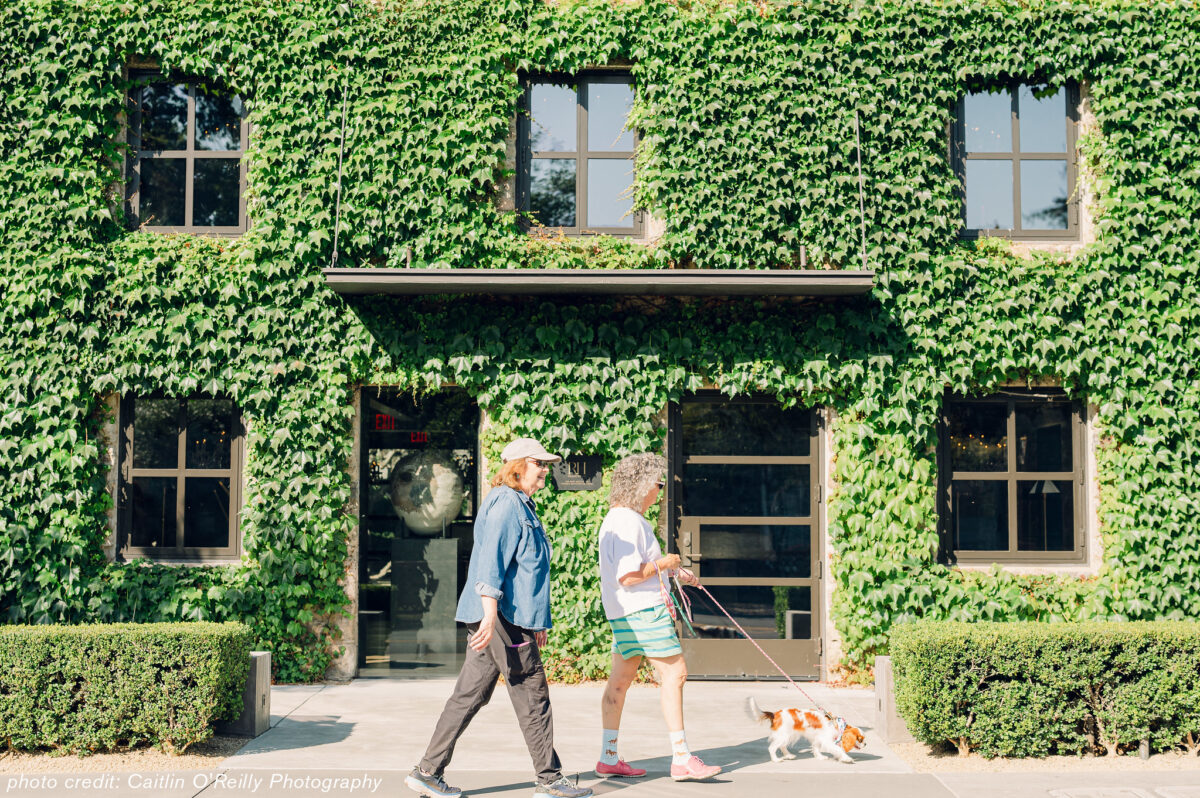 Joy Unleashed at Walk for Animals 2023
by Wendi Piscia | August 24th, 2023 | 11:08 am
With all the challenges of restoring an in-person Walk in 2022, we were a little nervous to move our 2023 event to a brand-new location. Would participants embrace the new venue? How smoothly could everyone transition to a new route through a new town? Would there be enough parking? Would the new vendors and community partners for our booth setup enjoy participating? Would attendees appreciate them? We hoped to get 250 pet lovers signed up, and to raise $80,000 for our programs and services. Could we pull it all off??
We were probably the only ones worrying. Nearly 300 pet lovers joined in on the fun at Yountville Community Park, despite a sizzling forecast! Fortunately, plenty of grass and big shady trees kept things nice and cool for the festivities, and everyone had a great time.
Napa Valley Coffee Roasting Company was onsite to pour complimentary cups of Napa Humane's "Best Furiends Blend" for Walkers, which is also available for sale on their website here and in both Napa Valley locations. Southside Café, Sweetie Pie's, and Clif Family provided complimentary snacks to go alongside fruit for Walkers and volunteers. Tails were wagging, both figuratively and literally!
None of this could have happened without the nearly 100 volunteers who came out to set up, guide Walkers, clean up and more. Many thanks to Debbie Kmiec and the Rainbow Girls, and Bill Bennett and the Rotary Club of North Napa, who helped guide Walkers along the new route along the Vine Trail and helped with dog waste cleanup. Thank you to Gordon Smith who led logistics, to UBS Compass Point Financial Group who stuffed Walker goodie bags and helped set up the new venue, and to everyone else who dedicated their time before, during, and after the event. We can't begin to tell you how much we appreciate your hard work on behalf of Napa Valley's companion animals!
Special thanks go also to the Town of Yountville, its residents, and Yountville Parks & Rec for welcoming Napa Humane and Walk for Animals to their charming community. And of course, a grateful shout-out to Napa Valley's favorite radio personality, Bob St. Laurent, for emceeing this year's event!
In total, more than $67k was raised by our 12 teams of fundraisers, the silent auction, raffle, and day-of donations, and Napa Humane's generous annual sponsors.
Dr. Mary Whitehill returned for her 12th Walk and maintained her crown as the reigning individual fundraising champ. Her Team Kimba also kept their title as the top fundraising team. Annalee Sanborn and her group Team Pineapple achieved amazing results for Napa Humane's programs, and claimed new bragging rights as top fundraisers.
Other contests included best costume and best trick, and we were incredibly lucky to have amazing local photographers donating their talent to capture all of the fun. Check out the fabulous Walk for Animals photo albums created by Seymour & McIntosh, Caitlin O'Reilly Photography, CJ Creative, Robert Jaeger Photography, R. Photography & Imagery, and PhotosByMarissa.com: bit.ly/WFA2023photos
We are already looking forward to next year's Walk for Animals! Save the date for Sunday, August 4, 2024.
For more stories and photos, take a peek at the local newspaper articles recapping the 2023 Walk:
Press Democrat
Good things happening: Napa Humane event sees rise in donations
Napa Register
Napa County pet owners show their bonds with furry friends at Walk for Animals in Yountville