Gettin' Goofy on The Vine
by Wendi Piscia | February 22nd, 2019 | 4:00 pm
More than 10 years ago, Kellie Fuller invited "Wendi and Jane from Napa Humane" to come on her "Kellie in the Morning" radio show at the local radio station, 99.3 The Vine. Since that fateful day, The Vine's changed morning shows, hosts, and even ownership — but never stopped inviting us for our goofy, animal-loving weekly segment. Now that's love!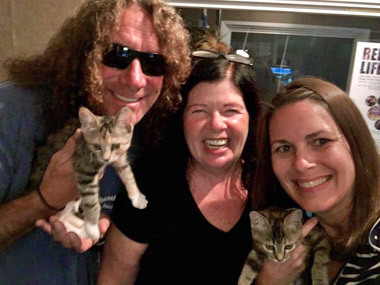 Every Thursday around 8:40 a.m., Kelly from the Napa County Animal Shelter and I join morning host Bob St Laurent to talk about pets, pet care behavioral tips, and the adoptable pets currently at the Shelter. Since we started our segment in 2008, the radio station has featured more than 500 furry friends looking for their forever home, and as many pet education messages.
The sound studio's carpeted walls were totally irresistible to kitties, and more than a few were literally climbing the walls while we talked about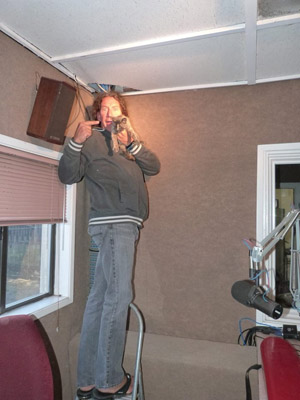 how to stop destructive scratching behaviors! At the station's current building on Foster Road, there's also a kitten-sized gap in the ceiling where the cords drop down into the studio. I remember one day a kitten made a fast break for it while we were recording live. I was closest, so I jumped up onto the shelf to try and grab her, but the shelf gave way and I crashed to the ground out of Bob's line of sight.
I was laughing so hard that at first I couldn't talk. Since he couldn't see me, Bob thought I was hurt and kept asking on the air, "Wendi, are you ok?! Are you ok?!" Once he realized I was fine and just laughing, he started laughing, too, and we had to cut to commercial because neither of us could speak. (The kitty was fine, though. She came right back down from the attic for a fresh can of cat food.)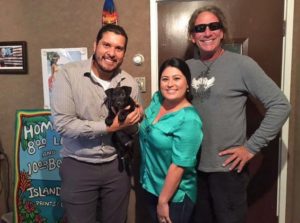 When the station was sold in 2017, we worried our segment might get cut so they could sell the time for advertising. But we soon discovered that the new owners, Will and Julissa Marcencia, are also huge animal lovers and amazing community supporters. Instead of discontinuing our segment, they've gotten the station even more active in animal welfare — doing live remote shows at Napa Humane's events, and other animal events like the "Clear the Shelters" day at the Napa County Animal Shelter. Both Will and Julissa also serve as board members on local animal welfare organizations. Julissa's actually on our Napa Humane Board, and we're so grateful to have her!
According to Bob St Laurent, our pet segment is "listeners' favorite bit of the week." I'll let you decide for yourself with this clip (below) of our Valentine's week show from a few years back, which went off the rails pretty spectacularly and earned a prime spot in the station's "Best of" collection.