Feeling Grateful!
by Wendi Piscia | November 26th, 2019 | 12:21 pm
This month marks 14 years that I've been part of the Napa Humane team, and I couldn't feel more blessed. Most people dream of having a job where they love what they do and the people they do it with, but it's pretty rare to have both at the same time. I am definitely one of the lucky ones, and I'm giving thanks – for the Napa Humane team, our Board, our volunteers, our partners in animal welfare, and every single one of our supporters. My heart is full of thankful stories, and I want to share a few!
Our Awesome Staff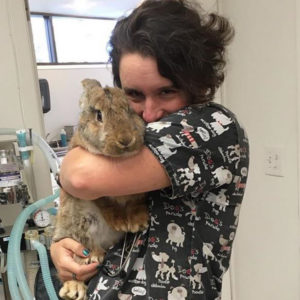 Our Napa Humane team truly believes in the work that we do, and they show their dedication in every spay/neuter surgery, every vaccination and microchip, every piece of pet advice, and every child taught pet safety in schools. I am particularly in awe of Dr. Amanda Vance, who in her 10+ years working at Napa Humane has performed almost 30,000 spay/neuter surgeries! Think a second about the impact that's made on our community. . . it's mind-blowing! Her dedication and skills are phenomenal, and I am so grateful she's part of our team.
Our Phenomenal Board of Directors 
There is really no other way to say it – my Board rocks!  Susan Duke, for example, has volunteered at every single Napa Humane fundraising event for 14 years. In January 2017, Susan took her commitment to Napa Humane to the next level by joining our Board of Directors.  With her longtime history with Napa Humane, her business connections, and her consistent support of Napa Humane's mission, she's the kind of board member most Executive Directors only dream of.

Our Amazing Volunteers
Every volunteer helps advance our mission, but those who keep coming back become family. Sally Seymour and I met when she volunteered every week to help photograph adoptable pets at the Napa County Animal Shelter back in 2008. I became quite good at making random noises over Sally's shoulder in order to get the dogs to do adorable head tilts. Her generosity doesn't stop at the Shelter, though, and she also captures the vibe and precious moments at every Napa Humane event, wellness clinic, and our important day-to-day work. What few people know is that Sally is more than just a brilliant photographer – she's also a renowned cat whisperer. Whenever Napa Humane gets called on to assist during a disaster, Sally steps in to help as a cat caretaker. We are so, so lucky to have her support!

Our Loyal Local Businesses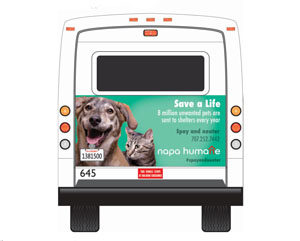 Napa's generous local businesses support so many deserving nonprofit organizations in our community. We are beyond grateful to every restaurant, winery, and business who's ever held an event in support of Napa Humane, contributed an item for our silent auction, provided discounted services, or written a donation check to Napa Humane. Driving around town lately, I can't stop smiling at the adorable dogs and cats on the backs of the VINE buses. This is thanks to designthis!, whom I've had the pleasure of working with since I joined Napa Humane. They know our work and brand so well, their designs are always spot on – and they make a real commitment to give back to our community. They not only did all the design work for the bus project pro bono for us, they also hosted an Open House earlier this month to raise money for Napa Humane, Whiskers, Tails and Ferals, and Friend of the Napa County Animal Shelter. Amazing!
Our Incredible Individual Supporters
And to every person who has made a financial donation to Napa Humane – thank you! As you'll see in a story below, Brian and Nancy Malk have pledged to triple Give!Guide donations to Napa Humane (starting TODAY!) with a $12,000 donation challenge. Last week, I was delighted to visit the Sunrise Montessori Girls on the Run group, who presented me with $375 that they'd raised at a bake sale. Whether the donation is $10 or $10,000, I am incredibly grateful to every single person who chooses to help the animals.
I can not say thank you enough. Thank you for helping ensure puppies and kittens are not born to an uncertain future. Thank you for making it possible to provide life-saving services to pet owners at less than cost, and keep the ever-increasing cost of veterinary care affordable for those who need it. Thank you for caring about innocent animals who rely on humans to ensure that they are well cared for. Thank you for putting your trust in Napa Humane.
I look forward to 14 more great years with Napa Humane, and with you all!
Wendi Piscia, Executive Director