Caturday Is Back, Thanks to a Local Family's Support
by Lisa Alexander | April 1st, 2021 | 11:37 am
Cats in heat can try the patience of even the most loving pet owner. Their piercing yowls often sound like pain or distress, and are highly effective at getting the attention of male cats, near and far. A female cat in heat may spray a fine stream of urine around your home, as she marks her territory to lure a mate. She might pace restlessly, or roll back and forth on the floor, or rub up on you and/or your furniture. She almost certainly will make multiple attempts to escape from your home to find a mate. This might involve clawing at window screens or just making a break for it anytime the door opens. Cats can have multiple heat cycles per year, beginning as early as 4 months of age, and the onset of heat can come to a huge surprise to first-time kitten owners or rescuers.
This is why we recommend spaying your female cats before the first heat cycle occurs.
With this warm spring weather, we've been getting quite a few calls that our clients' cats are in the mood for love. The race is on to get kittens and cats spayed before they get pregnant!
Our spay/neuter team set up a few emergency "Caturday" spay/neuter weekends to tackle the problem ASAP. One harried client brought in a litter of four that she had rescued – two boys and two girls. This client had been having a very difficult time keeping her male cats from her two yowling females. (When a female cat goes into heat, a male follows its instinct to pass on its genes, even if he and the female are from the same litter.) The client had been confining the females in her bathroom and the males in her bedroom, but every time she had to go in or out of one of the rooms, the cats would bolt and try to break into the other room. Our client was ecstatic picking her cats up this past Caturday, knowing her life was about to get a whole lot simpler.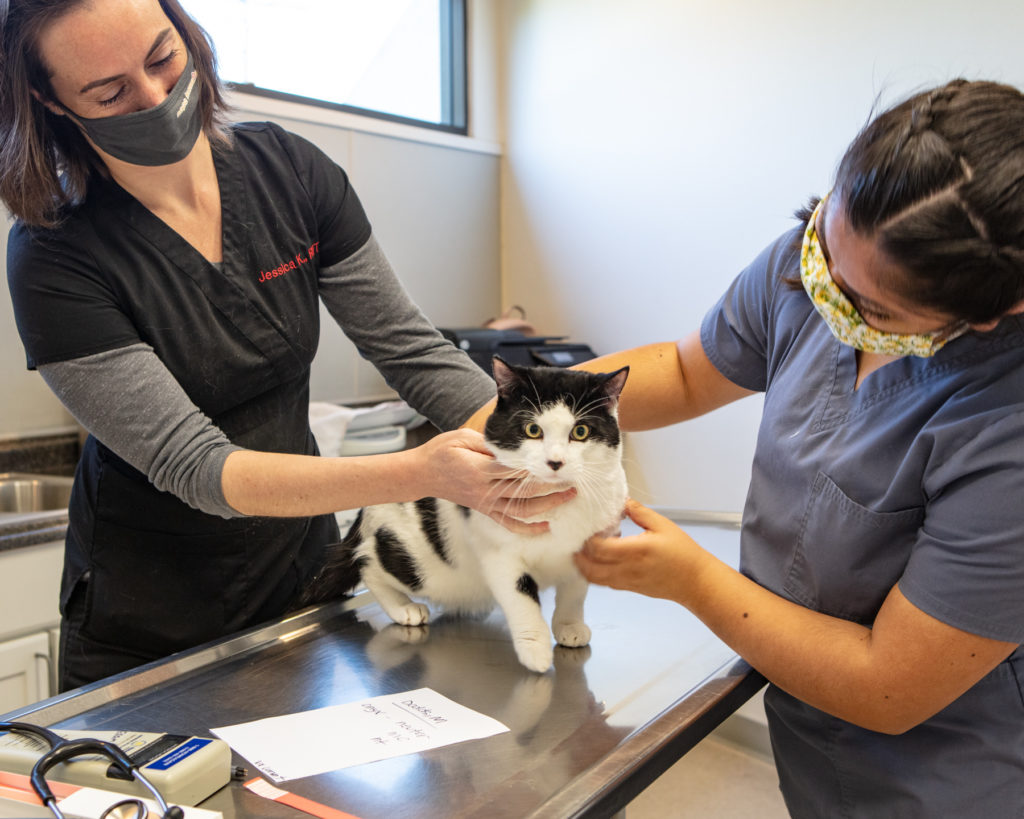 Another grateful Caturday client shared with us that her neighbors had been complaining about the terrible sounds coming through their shared wall. She told us she didn't think they believed her when she said it was just her cat in heat! Thankfully, her neighbors (and her cat) can now rest easier.
Our expert Caturday Spay/Neuter Team knows how typical these stories are, and wants to be part of the solution. Veterinarian Dr. Debra Dangelo-Loechner leads our special-forces effort, aided by Jessica, one of Napa Humane's former Registered Vet Technicians. Thanks to our team's willingness to give up a gorgeous sunny Saturday, Napa Humane's Caturday efforts have already spayed 30 cats – most of whom were already in heat. Many thanks to our team for getting those cats in under the wire, and helping eliminate needless suffering!
Massive thanks go also to The David and Jane Gotelli Family Fund at the Napa Valley Community Foundation, whose generous recent grant enabled our first 2021 Caturday and will allow us to hold several more this year. The Gotelli Family Fund provides annual grants to organizations dedicated to the health, welfare, humane treatment and adoption and care of small animals. Their generosity will have a lifesaving impact on more than 10,000 Napa County companion animals. Without this funding, we simply couldn't afford the staff and supplies needed to stay open six days a week.
We are profoundly grateful to the Gotellis and to the Napa Valley Community Foundation for selecting Napa Humane as a recipient. Thank you so much for supporting strategic prevention, and making such a powerful impact on our community!