Art with Heart to Lift Your Spirits
by Natalie Griffin | May 21st, 2020 | 1:06 pm

Napa Humane launched our first-ever pet portrait fundraiser last month, to help put idle hands to work and lift everyone's spirits for a great cause!
For one week only, any donation to Napa Humane of $20 or more commissioned an original portrait of the donor's pet, courtesy of a cadre of 54 volunteer artists of every age and experience level. From Napa six-year-olds to artists in San Diego and even Massachusetts, the talent pool was broad and beautiful. By the time the event closed May 8th, we'd raised more than $2000 for Napa Humane programs, and produced 80 gorgeous portraits!
Donor Jeff shared with us, "Our family dog Ruby is the sweetest, smartest, most loyal dog. She's getting older so we wanted to give my mom her portrait for Mother's Day. My mom LOVED it! The artist did an amazing job capturing her loving personality – we couldn't be happier."
Donor Susan shared: ""This is the best ever! Tears are rolling down my face – I miss that cat so much and this is such a perfect tribute ???!"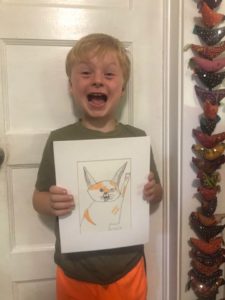 Check out our entire museum-worthy collection of beloved dogs, cats, lizards, and one very special bovine. And don't miss Oscar the cat, by six-year-old Grayson!