All-New Caturdays Help Us Get a Jump On Kitten Season
by Lisa Alexander | February 25th, 2020 | 1:35 pm

Have you been loving the recent spring weather? Our local un-spayed cats have, and many of them are already in heat! Since rising temperatures are the cue, an early spring means early kitten season, too. Once they're in heat, female cats continue to go into heat until they get pregnant – or spayed. Fortunately, we just received a generous private grant from the David and Jane Gotelli Family Fund, which enabled Napa Humane to work overtime spaying and neutering cats before they have the chance to reproduce.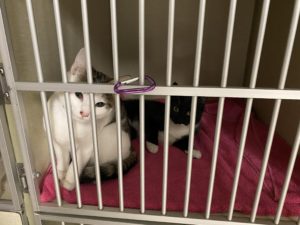 Our spay/neuter Clinic will be open for business on four weekend "Caturdays" in February and March in addition to our usual Monday-Friday surgery hours. On our first Caturday on February 15th, five of Napa Humane's staff gave up their Saturday to spay some of the highest priority patients – cats who were already in heat and doing their best to escape their owners' safeguards.
We have never seen such a grateful group during check-in! Once the clients realized that they were all there with kitties in heat, they started commiserating and sharing stories. One client said her cat had been scooting around everywhere she went – hindquarters dragging on the floor. Everyone else in the room was jealous this was all she was dealing with! The other clients talked about the loud, primal yowling, and the constant rubbing up on everything and everyone. One person said every time she turned around, her cat had her hindquarters in the air. Another woman said her cat had been hurling her body against the window, trying to escape outside to mate. (Good thing it wasn't just a screen!)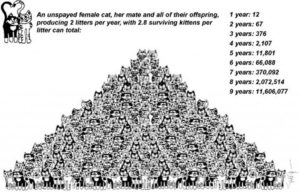 Cats average about four kittens per litter, and have three litters a year. So doing the math, our first Caturday has already ensured that 216 unwanted kittens aren't going to the Shelter this year. Thanks to our past work spaying/neutering local cats, the thousands who would otherwise be dumped at the Napa County Animal Shelter actually number only in the hundreds. Even so, the Shelter is still overwhelmed by the seasonal demand because of how difficult it is to raise kittens on a large scale. The Shelter's normal staff and volunteers can't give hundreds of infant cats the care and attention they need every day, so the Shelter has to rely on (and train, and supply, and support) many private foster homes to care for and socialize the kittens until they are old enough to be adopted.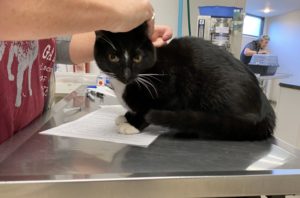 The best way to manage the problem is to spay and neuter as many cats as possible before they can reproduce. Our next three Caturdays are already fully booked (and with waitlists), which shows there's still a huge need for this work.
We're doing everything we can to make sure every kitten born is a wanted one! Will you help us?