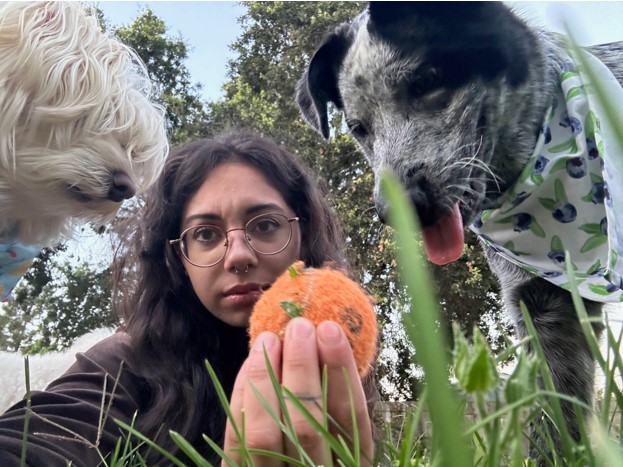 A Great New Vet in the Making
by Wendi Piscia | September 18th, 2023 | 5:47 pm
Interview with Yoselin Hernandez-Aceves, Napa Humane Employee and Future Veterinarian
Yoselin Hernandez-Aceves, our Vet Tech Assistant, is a lifelong animal lover who is really stepping up to help with the veterinary shortage – by leaving Napa Humane to attend veterinary school at UC Davis! Learn her story in her own words below.
When did you know you wanted to become a veterinarian? What drew you to the profession?
I think I've always known I wanted to work with animals. Growing up, my parents did their best to convince me to get into sports, or maybe dance like the rest of the girls in my class. Even with all the pushing, though, they couldn't convince me because I would have had to do these activities without my puppy. That dog became my whole world, and I needed to know everything I could about Chihuahuas.
When I was gifted a toy doctor's set around age 8, I chose to listen to my dog's heartbeat and vaccinate her so she wouldn't get the flu like I had. What started with a single-dog household transformed into a home for chickens, ducks, a chinchilla, iguanas, small parrots, bunnies, turtles, and finally a Blue Heeler and his very annoyed sisters. I have never been able to focus on a singular one of the animals that shares a home with me, and I venture into all of their worlds. I love learning about the care they require, their specific diets, their behaviors in captivity and in the wild, and, especially, the best ways to prevent diseases and health complications in their lives. And it all started with a special little Chihuahua named Dora.
What did you enjoy most about working for Napa Humane?
I don't even know where to start. I really felt like I was welcomed into the veterinary field while working here, and I wouldn't trade my time with you for anything. The experience I gained may not make me Valedictorian at UC Davis, but it's reminded me of why I enjoy the field, regardless of the struggles involved. I just wish I'd listened to Lisa earlier and joined the team sooner!
I still remember my first day – there were so many things I had to pick up, but I didn't feel pressured or looked down on. Instead, I was received with open arms and everybody willing to lend a hand. Everyone there made it so enjoyable to work. The RVTs took time to answer all my questions, even the silly ones, and describe what they were doing with so much knowledge. I'm just left in awe by the love and care they took to explain tasks that weren't even under my job title.
Working here allowed me to learn so much more about the veterinary field than I thought I would, because being a veterinary assistant was more than wrapping surgery instruments and cleaning kennels.
I'm grateful for the amazing doctors who patiently explained the meticulous work that they do every day. I learned more about animal biology than I had in my college classes! I am definitely most grateful for Dr. Vance who would put up almost on a daily basis with my millions of questions regarding common dog and cat illnesses. And, of course, those at the front desk who welcomed everyone with a smile and extended a hand to those needing resources and information. Walking in every day to an example of someone who was there not for the money, but someone who was there for the good of the animals. Being at the front desk is more like being an advice nurse, really. They don't just make appointments – they know their field, and they're able to provide knowledge and resources to everyone who walks through the door.
Of course there was also the major WOO-HOO moment of meeting my puppy, Benito.
What kind of veterinary medicine do you want to practice?
I've honestly been working to figure out where I wanted to focus my studies for the last two years at the CCC. I was really set on working with farm animals, like poultry and cattle, but I don't really know if I could handle large animal health or the food industry regarding those animals. I think my time at the Napa Humane Clinic may have something to do with my response today… but I think I want to focus on companion animals and maybe stick a toe into the world of shelter medicine.
I want to believe there are millions of opportunities in my future that will give me a taste of interesting paths in the field, but at the moment I think I want to focus on exotic animals. Vets who specialize in small critters like my Chinchilla, Luna, or even my Green Cheek Conure, Cocoa, are kind of hard to come by, based on my past experiences. I want to be able to make a difference, even if small, by offering someone else the resources and medicine I needed and found thanks to two wonderful vets in the Napa Valley. Although, I wouldn't mind spending some time at Napa Humane with a different job title in the future….